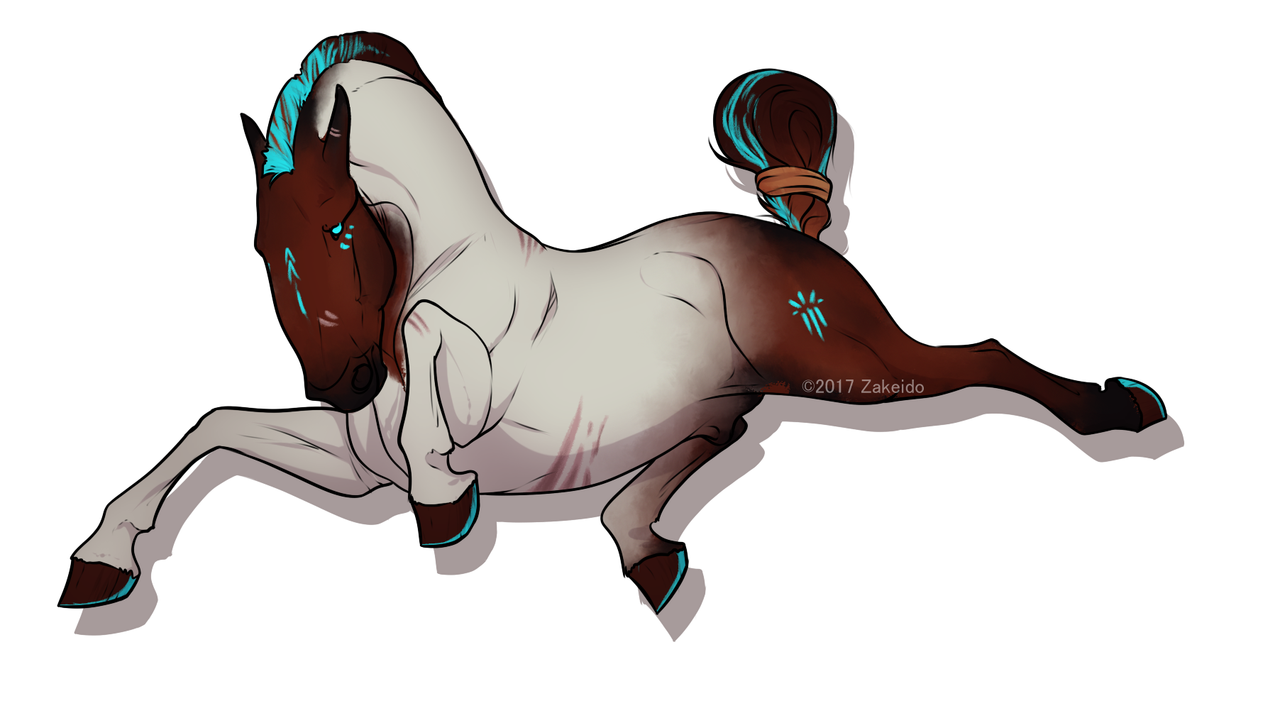 click over the image to view his full ref
The gladiator is colored pretty simply. But definitely memorable. His body stands at 20 hands and is pure muscle. His fit body appears to be around 28 years, though he has lived for a lot more. His fur is short and soft to the touch. Behind his strong teeth hides a yellow-ish long tongue, much like a tentacle. His saliva poisonous (like acid). His mane is short and trimmed and his tail is also short and caught by a rag that ties it together, making it look like it's bobbed. And now that all of his obvious parts are listed, let's continue with the colors. His whole body is a dirty white color. His face and his rump and hinds are a dark brown color mixed with even darker brown and chestnut color. His mane holds the same color scheme. His hooves dark brown almost black. His eyes bright blue. And here's where the unusual comes in. His body is covered by the same bright blue that his eyes hold. He has markings on his face and on his left hind leg. A streak of blue in his tail and his mane was also covered half way in the same bright blue. It looks like war paint, but he was born with these markings. Not only do they have a soft glow to them, but his markings change color, due to his emotions. There are three colors. Blue - content/calm. Red - aggressive. Green - annoyed / agitated.
diplomatic - loyal - fair - traditional - polygamous - merciless - greedy - bold - sadistic - dominant - ambitious The moment he was born, he showed how strong he was and the ambition he had. He grew to be strong and fair. Diplomatic and loyal. He was taught to treasure traditions and to treasure his family. That was until something else began to live within him. After he reached 18 he wasn't the same anymore. He became greedy and sadistic. The way he watched his parents dying turned him into a wreck. He was angry. He wanted others to suffer. A few years back he arrived at this place and hoped to start anew. And maybe the ghosts from the past would disappear.
When he found out he was immortal he saw it as a blessing. But after that he watched his parents and siblings die. He watched his wife and children die. He was left alone and hurting. For a long time he was angry and empty. Now he has already accepted what happened. He entered this land with hopes of something new, the ghosts from the past, followed him in, too.
The ability he has is a bit different from magic. What he can do is make a dead flower blossom. A dead seed to grow. The one that he uses most to mostly amuse himself is the ice that flows through his veins. He can create small figures from ice and make them move. One might call him an illusionist. Though he sees himself as just a sad clown who is still haunted by his past.
Mercury's companion is an albino raven he had met a year ago. He found him as a chick and saved him from certain death. Since then, Mars follows him around, being his eyes from above. The raven is usually quiet and introverted, the only one he talks with is Mercury. T
Mercury, cannot swim and dislikes the water.